Palu Rainbow Song

Inventor of The
Solar Meditation Bow 
* If you had a cosmic demonstration of Palu's amazing Solar Meditation Bow and want to donate $ to him for that (the inventor of the 8th Wonder Of The World), please click HERE.   (Or follow and support Palu on an ongoing basis as a patron of his on Patreon.com)
* (To donate to other Palu projects (such as "CD's For The Homeless" or  "Songs To Heal Cancer," etc) - please see the last PayPal $ Donation Requester at the bottom of this page.

Watch THE Most Viewed Episode In Dragons' Den History
Palu Rainbow Song, inventor of The Solar Meditation Bow, appeared on CBC - TV`s Dragons' Den on November 6, 2013.
1.1 million viewers tuned in to watch him tame the dragons.
Click the picture below for more information about The Solar Meditation Bow (as seen on The Dragons' Den)... and to order!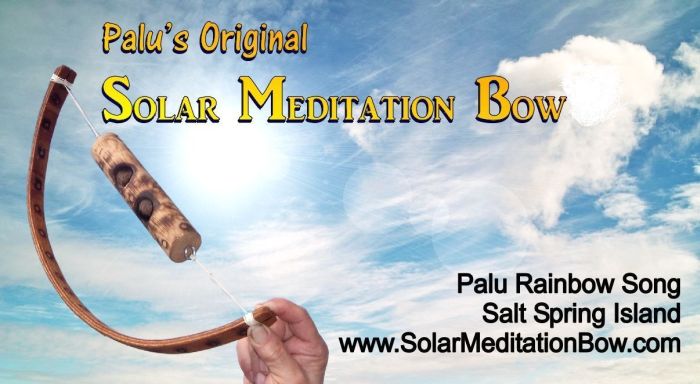 Formerly you could view a "sneak peek" of the Solar Meditation Bow pitch on Dragon's Den that went absolutely viral a week before the show aired. By clicking this message or picture below (which was formerly 57 seconds long when it took you to the "Sneak Peek)," this link now only takes you to the episode pitch since "Sneak Peeks" are discontinued after a while. - To help Palu "own the rights" to his "Sneak Peek" on The Dragons Den for his episode pitch and reinstall it on this website, please donate money by clicking HERE at GoFundMe.com. Alternatively you can become a patron of Palu's on Patreon.com by clicking HERE and keep abreast of the wonderful things Palu does so you may support him, his projects and planetary healing endeavors for the highest good of all concerned on an ongoing basis.
View the entire Solar Meditation Bow pitch on Dragons' Den by clicking on this message or picture below
(6 minutes, 52 seconds)!
View the entire Dragons' Den show (Episode 6, Season 8) that includes Palu's SOLAR MEDITATION BOW pitch (6 minutes, 52 seconds). A Preview of Palu's pitch begins 22 seconds after the start of the whole episode. Palu's "Solar Meditation Bow" pitch begins at 24 minutes, 44 seconds. To watch the whole episode in its entirety, just click on the picture below.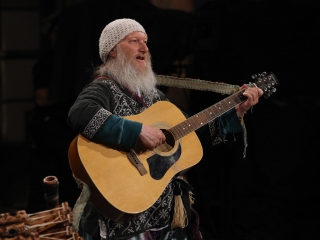 Folks from the USA are unable to watch "The Dragons' Den" in Canada from the links given here because the USA hosts "The Shark Tank" there. Since "The Shark Tank" is an offshoot from "The Dragons' Den, all airing of "The Dragons' Den" is cancelled and unseeable in the USA.

As a result, I am looking forsome alternative methods to view the "Sneak Peek," "Solar Meditation Bow Pitch" and entire "Season 8, Episode 6" as seen in Canada on "The Dragons' Den," if you happen to live in the USA. Have patience!

Today's date is July 30, 2017 and as a headline suggests, I've now become the most watched episode in "Dragons' Den history!" I am currently working on revamping and re-organizing this website for the ever increasing audience.
Palu's episode on "The Dragons' Den" (including the awesome "Sneak Peek"), have become the most entertaining in "Dragons' Den" history,   the most cherished and is on many fans' "ALL TIME FAVORITES LIST!"
Important Information About Shipping And Handling
Troubleshooting The Paypal Buy Button Or Shopping Cart
Coming up.... Demonstrations of Palu's kaleidoscope on Salt Spring Island at "The Saturday Market!"
Important Information About Shipping And Handling
Troubleshooting The Paypal Buy Button Or Shopping Cart
New Changes Coming!
There will be some exciting changes coming as Palu begins to bring things together and create more pages and links on this website!  Look for these changes starting soon, as well as more interesting widgets, ads and links to other websites Palu is creating that will breathe new life into this one!  One of these changes is already in place.  This is the ability to CHAT with Palu on this website when he is there!
The Dragons' Den
If anybody in Canada ever thought about going on "The Dragons' Den," I could tell you what it's like! I flew there on April 8, 2013, went on the set April 9, 2013, with an assistant from Salt Spring Island and flew back to Salt Spring on April 10, 2013. It wasn't until several months later that our episode on "The Dragons' Den" finally aired.
On November 6, 2013, I became an "overnight sensation" with 1.1 million people tuning in to my pitch, (a very high number that immediately dropped as soon as my "pitch" was over! What viewers across the nation loved most about my episode on The Dragons' Den was the fact that I seemed to "tame" The Dragons more than they'd ever seen before.
In other words, most of their usual criticism of some of the contestants that come on their show was absent during my pitch. This may have been because I brought to The Dragons' Den "The 8th Wonder Of The World!"
Though my kaleidoscope may not be colossal like the Pyramids of ancient Egypt or The Sphinx, nevertheless it is truly amazing and that's what marks it as something the world has long been waiting for!
This is what "The Dragons" learned on "The Dragons' Den." And if that wasn't enough, I wooed and amazed them with my "freestyle song ability" to make songs up "on the spot!"
The behind-the-scenes crew, producers and "Dragons" themselves on The Dragons' Den set were so taken by my assistant and I after giving them demos of my kaleidoscope and making up plenty of songs, they "treated us like Gods" on the Dragon's Den set! Who else better to ask, "What's it like to be on The Dragons' Den show?" My question for you is, "Wouldn't you like to go on the show, too?"
I helped radiate laughter and good cheer while I was on the show (a rare feat indeed). This is something I think will become a trend from now on so people can see a more "human element" in "The Dragons." I had a very nice experience being on "The Dragons' Den!"
Important Information About Shipping And Handling
Troubleshooting The Paypal Buy Button Or Shopping Cart - (If You Are Having Trouble Using It, Don't Know How To Use It Or Are Confused By Its Operation)
$ Donation Requester For Palu's Projects To Aid Humanity
Besides creating and selling his Solar Meditation Bow Palu invented as well as other crafts, Palu invests much of his time in doing projects to help humanity.  These projects often  zap much of Palu's resources and frequently leave him penniless and broke due to helping others.  This is the place you can donate money to help offset cost-losses Palu faces for doing projects for FREE to help others. 
Your contributions will aid Palu's  work and the good he does to fight homelessness, poverty and help hospital patients suffering from cancer and other illnesses. 
Please choose  the appropriate $ contribution and the Paypal Requester will do the rest. 
Your choices are:
1 - "CD's For The Homeless," (Palu makes CD's for the homeless and those who are financially challenged for FREE in order to showcase their musical talent and help "give them a step up" so they can  rise above poverty by selling their own CD). 
2 - "Songs To Heal Cancer" (Palu tailors songs and song CD's for cancer patients in hospitals as well as those suffering other illnesses  or ailments  to help ease their suffering and aid their recovery). 
3 - "Paul Beckman" (this is Palu's 'mainstream name').  With this option, Palu chooses the  cause or fund the donated money  should go towards, as well as any new "humanitarian projects," causes or funds he has started  benefiting humankind).  This is Palu's way of doing "Planetary Healing."
* If you wish, you may go to "GoFundMe.com" and place your $ donation there.
Palu Rainbow Song
Palu Rainbow Song is not my real or legal name.  It came about when I attended a Rainbow Gathering in Arizona. A girl from afar mistakenly called me Palu off yonder in "The Sprout Meadow" I was walking through at the time. Just prior to that, I was thinking of how I wanted more of a "New Age" sounding name other than Paul.  I felt grateful when she called me Palu by accident because when I took a moment to think about what she had said, I noticed that in saying "Palu," 2 letters in the word, "Paul" were still there; (only they had been switched around).  Intuitively in one moment I decided "that was the name for me after a brief analysis!  Playing along with the name change, I responded, "Here I am!"  And with that... that's how the first part of Palu Rainbow Song came into being.  After all, Palu is the same as Paul with only 2 letters switched around.  That's why I liked it!
The rest of my name came about at the Rainbow Gathering after that one when I was standing near "Networking" where people put the names of places they were heading to after the gathering that they wanted to go to.  People would then check back there to see if somebody was going that way and if they could ride home with them a certain distance to where they were going.  
The day I was there, I heard 3 people talking amongst themselves nearby... then heard someone mention the name, "Rainbow Song."  I couldn't exactly tell if they had really said it, if I had heard them say it or if I had unconsciously "thunk it."  It was then and there that I determined it did not matter because I liked the name and decided it greatly fit who I was!  I had my scroll with me on which I wrote down New Age Names on the side and New Age Songs in the middle, so I not only wrote the name on my scroll, but also took it for myself and then and there became, "Palu Rainbow Song!"
Listen to my November 10, 2013, radio interview on
"Sounds Like Salt Spring with Bill Nash"
Palu Rainbow Song's Music!
Solar meditation bow invented by Palu Rainbow Song fom Salt Spring Island
Palu Rainbow Song radio interview by Bill Nash on "Sounds Like Salt Spring" was recorded on Sunday, November 10, 2013 at Green FM 107.9 102.1 greenfm.ca
Keeping those who've ordered a Solar Meditation Bow updated on how their order is coming along.
This is a page for all of Palu's downloadable, digital E-Commerce goods and products on PaluRainbowSong.com (aka "SolarMeditationBow.com")
This Website Page and Associated Links are dedicated solely to Palu's Shippable Hard Goods And Crafts.
This Website Page and Associated Links are dedicated solely to Palu's E-Commerce Digital Download Goods.
Palu's Affiiate Programs is a page that is useful for Palu as an affiliate partnering-up with other websites and for people who want to help sell Palu's products Palu creates himself.
How I built this web site PaluRainbowSong.com
Salt Spring Island is the home of Solar Meditation Bow inventor Palu Rainbow Song
Sadhana (Spiritual-Practices) are simply routines devised to help bring about better physical, emotional, mental and spiritual health.
Palu's News is the official newsletter of Palu Rainbow Song
Privacy policy of PaluRainbowSong.com
Contact Palu Rainbow Song
This is where you will be able to find many of Palu's songs.
This is about "cutting edge technology" and having animated Avatars or spokespersons" on your website, guiding your visitors.
This is a page on Palu's website about Internet Markeing Offers on sites like Clickbank, etc.
Amazing Internet Solutions 24-7!
An inundation of internet marketing overload material in one's in box.